I've managed to break the mail merge!
I have an ASCII 5 character in some mail merge data. (renders as &#x5 when saving as XML)
The mail merge is executed but Word can't open the document that the mail merge creates.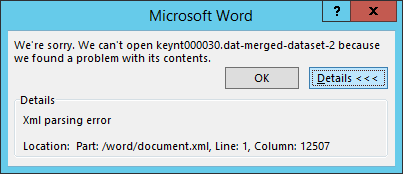 The same data is fine if I replace that character with something else.
I can work around it, but I thought you'd like to know. It's a pretty nasty error to end up with.
And if possible I would like to know if there are any other characters I shouldn't be using, please.